Oh, oh, oh, it's Magic
'Magic' enthusiasts battle with cards to defend honor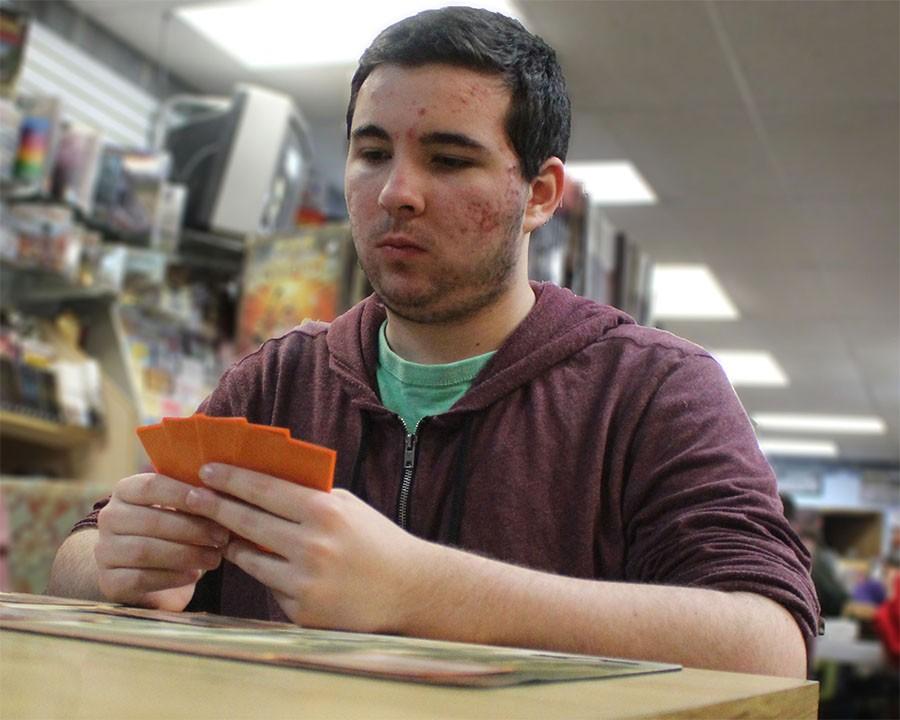 The battlefield is prepared, and two generals stand with huge armies at their disposal, ready to annihilate the other.
That may certainly be how it feels, but in actuality, two players, or wizards, gather their cards to begin a battle of a popular card game, "Magic: The Gathering."
Tensions are high as both wizards begin to cast land, or mana, to allow them to summon powerful creatures to destroy their opponent.
As each wizard attacks and casts spells on the other, they slowly get closer and closer to either defeat or victory.
On Mondays, Wednesdays and Fridays after school, "Magic" Club gets players together to play and have tournaments.
"I have been playing 'Magic' for about two years. One of my friends got me into it, and I have gained a lot of experience thinking ahead," Logan Woodward, junior, said.
The club is in room 1202 and is open to anyone who has an interest in "Magic."
"I go because I have a lot of friends in the club and we have a lot of fun," Woodward said.
Not only is there a club at school, there is also a place, 31st   Century, which holds games every Friday night, but the players there are generally very proficient in the game.
"I have probably spent about $50 on the game, but some of my friends have easily spent hundreds of dollars on the game," Woodward said.
With players from all over the world, there are thousands of wizards from countries such as Germany, Korea and even Russia.
Anyone can play "Magic." All one needs is a deck of 60 cards and an opponent. The rules are simple; the first step is to play enough mana to be able to summon creatures. However, other aspects make the game rather challenging.
"The game had its challenges, but I caught on fairly quick," Justin Maxwell, junior, said.
Cards can be bought in many places. Starter and booster packs can be purchased at Target, and more valuable cards can be purchased at places such as Vintage Stock.
"Anyone who likes strategy would love the game, and anyone can play it for fun," Colton Harris, senior, said.
In addition, Noah Gooch, junior, said that anyone who likes to be in control would love the game.
"Magic" was released in 1993 and has about 13,920 cards as of March 2014.
It has received many awards, including the 2012 Origins Award as Collectable Card Game of the Year for its Innistrad expansion.
Overall, many people around the world find "Magic" to be a fun game, and with a new edition every year, the game is likely to be popular for years to come.