Favorite fall drinks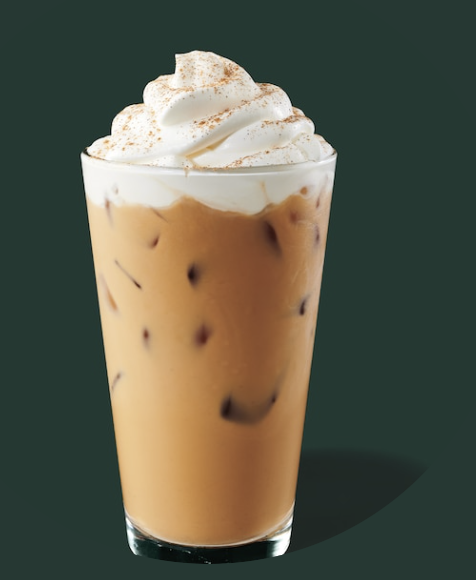 Starbucks has finally released their anxiously awaited annual fall drinks. The fall themed coffees they have to offer this season include Pumpkin Spice Latte, Apple Crisp Macchiato, Pumpkin Cream Coldbrew, and the Pumpkin Spice Frappuccino. 
The Pumpkin Spice Latte seems to be the most popular fall drink Starbucks advertises.  This drink also seems to be many people's favorite thing about fall considering its common to count down the days till its released.This latte includes a combination of pumpkin, cinnamon, and nutmeg. It is also topped with Starbucks signature whipped cream and caramel drizzle. It can be served hot or iced. 
The Apple Crisp Macchiato is the essence of an apple pie. This macchiato includes notable elements of espresso, milk, and caramelized apple drizzle. Can be served hot or iced. 
The Pumpkin Cream Cold Brew is a darker brewed iced coffee with splashes of vanilla syrup. It's topped with the signature pumpkin cream cold foam and pumpkin spice topping added to finish it off. This drink is served with only the iced option. 
The Pumpkin Spice Frappuccino is a frozen, blended, pumpkin coffee drink. In this frozen beverage, you will find hints of classic fall flavors like cinnamon, nutmeg and clove, and of course, a tasty blast of pumpkin. 
Dunkin' Donuts, a competing brand to Starbucks, has also released their line of fall drinks for 2021. This season they have chosen to advertise Apple Cranberry Refresher, Pumpkin Spice Signature Latte, and Pumpkin Cream Cold Brew.
The Apple Cranberry Refresher is an apple cranberry juice mixed with your choice of coconut milk or green tea. This drink is only served as the iced option.
The Pumpkin Spice Signature Latte is a delightful mix of pumpkin spice, milk, vanilla,  and espresso. This drink is similar to Starbucks Pumpkin Spice Latte. It is topped with an airy whipped cream, carmel drizzle and cinnamon dust. Can be served hot or iced.
The Pumpkin Cream Coldbrew is a bold taste of strong brewed iced coffee mixed with pumpkin syrup and topped with pumpkin cream cold foam. It is only served over ice.