Why Don't We releases second studio album, 'The Good Times and The Bad Ones'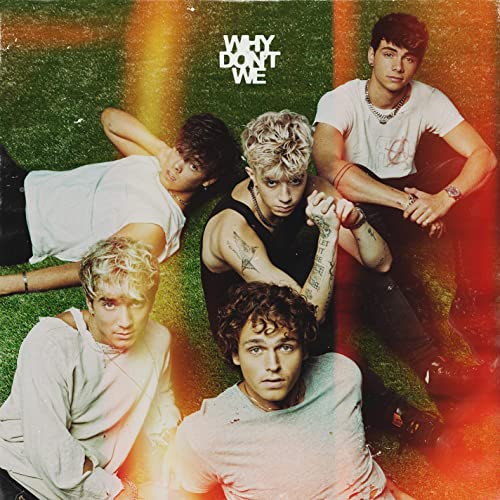 Boyband, or as they and their fans call them, manband Why Don't We released their second studio album, 'The Good Times and The Bad Ones' Jan 15. The band has previously released five EPs and one studio album, '8 Letters,' but this is their first album written by the members, Jonah Marais, Corbyn Besson, Daniel Seavey, Jack Avery, and Zach Herron. The album includes singles such as 'Fallin' (Adrenaline),' 'Slow Down,' and 'Lotus Inn.' 
Single 'Fallin' (Adrenaline)' is the first track. The song is a bop, it's about falling in love and that decision to just fall. You can read a more in-depth review here. 
'Slow Down' is track two. The song is guitar and drum-heavy, and sounds pretty different than any of the rest of their music, it has a different feel than their other songs, it sounds like it has just a touch of rock influence. This was the third song they released from the album. It's about being in a relationship and recognizing that maybe it's going too quickly and everything just needs to slow down so they can get their bearings. There's a lyric, "I miss the way you looked at me before I left New York," which a lot of fans think is a nod to Besson's girlfriend, Christina Marie Harris, YouTube name BeautyChickee, who lives in New York. 
The third track, 'Lotus Inn,' is about being with someone, meeting someone, not wanting it to end, and wanting that moment to last forever. The backtrack has a different feel than anything they've done before, but it feels good. The drums really drive the chorus and the verses.  The song was a nod to Corey La Barrie, a close friend of the band. Before the song was even released, La Barrie would tell Seavey's brother to blast it and they would jam out to it.
Track four, and my favorite track on the album by far, is 'Be Myself.' If a person has bad anxiety, I highly recommend listening to it. It speaks of the feeling of anxiety, of not being able to control the thoughts going through your head, of trying to be someone else, of wondering why they even try, why do we try to find validation in other people's words? The song is slow and very acoustic guitar-heavy. It's very emotional and their voices show that. Their voices are more mature and filled with emotion, especially Marais's. 
'Love Song' is track five. The song is about being in love and wanting it to last forever, about finding the one, and knowing it, with lyrics such as "I wrote another love song baby about you/I've written one about every second without you" and "I want to see the whole damn world with you, baby/ Yeah, you could be the one girl, drivin' me crazy." It's upbeat and is very much a dance song.
Track six is 'Grey.' The beginning riff reminds me a little bit of 'Perfectly Wrong' by Shawn Mendes, but with a slight variation. It's piano-driven, and it sounds very melancholy, which supports the lyrics. The song is about loving someone, being through everything with them, and then letting them go and feeling the consequences. The chorus being "Tears and slammin' doors/ I'm fallin' down on the floor/ Beggin', beggin', please/ You don't want me no more/ I never hurt like this before/ I'm beggin', beggin', please/ Now every day it rains/ And I'm the one to blame/ Baby, I walked away/ When you came to stay, oh/ Now everything's grey." The chorus makes you feel with them, it makes you almost reminisce on what they're going through as though you've been through it yourself. 
The next track is 'For You.' The song starts with piano, then guitar and the sound of snapping comes in and is the most prominent sound along with a symbol line during the verses. The song has more production than other songs they've created. The song is about breaking up with someone, and still wanting them, even when you know you shouldn't. The other person has moved on, but you're telling them you still care about them, you'll still be there for them, even when it won't change anything and you know you shouldn't say it. It wasn't the best relationship, but you want it back even when you can't have it.
'I'll Be Okay' is track nine. The song is about wanting a girl, needing a girl, but not letting her know. "We did it for the hell of it/ We did it for the good times and the bad ones/ We didn't think about what shit might happen" indicates that they started something they didn't think about, it was a whim. The backtrack is drum-heavy, a song you nod your head to. The vocals sound more mature than most of the other songs. 
Track nine is 'Look At Me.' It starts with almost demonic laughs that are kind of creepy. They allude to their songs 'Nobody Gotta Know' and track two on the album 'Slow Down.' The song is very straightforward and dare I even say raunchy. The lyrics spell out a very clear message of what they're trying to say. There are a lot of deep tones. The backtrack is very percussive. It also sounds very synthesized. It sounds like a song you would hear in a club. 
The last track of the album is 'Stay.' The song is about losing someone you love and missing them, wishing they'd stay just one more night. They've always been there for the person, but that person has stopped loving them. It's a song about heartbreak and hurt. The song is emotional and one you can cry to. It's not as slow as a normal breakup song, it's upbeat, but it's sad.
Overall, the album is one of my favorites of all time. It made me feel things I didn't know I could feel, and I think anyone who listens to the album would understand. You don't have to be a Why Don't We fan to listen to this album, as the sound is much different than what the fans are used to, but it's still amazing.