Olathe South Theatre Is Coming To YouTube
Olathe South Theatre is developing new ways for their students to perform during the COVID-19 pandemic, and the Repertory Theatre and Advanced Repertory Theatre classes have some especially big ideas for this new opportunity. Since performing for an in-person audience is no longer an option, the Rep Theatre classes will be publishing their performances on their very own YouTube channel.
The students have also taken an active part in the making of these productions, including senior McKenna Cowles. Each student recorded a short clip of themselves and sent them to Cowles, which she used to create an introduction featuring all of the students before the presentation began.
"Making videos is an absolute passion of mine," Cowles said. "This project was a great opportunity to do two things I love, video making and theatre!"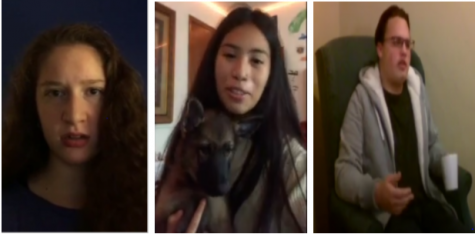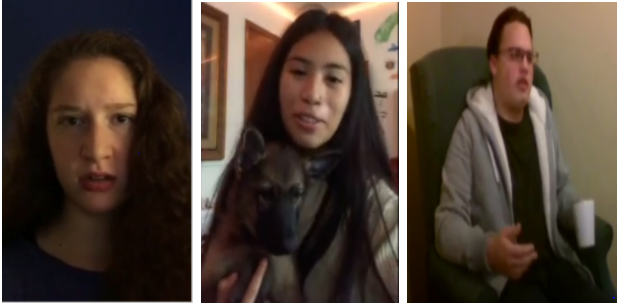 Humorous Story from        Humorous Story from       Humorous Story from 
                                senior Alliyah Pullin     senior Jacqueline Jose-Flores     senior Sam McCauley
The video "Humorous Stories" was uploaded to the Olathe South Theatre YouTube Channel on Sept. 25. In the video, students shared some of their funny quarantine experiences. Some of the stories include  junior Rowan Farrah's attempt to dye her hair hot pink, junior Jack Cannell's job interview at Slim Chickens, and the tragic tale of senior Aliyah Pullin playing the board game Risk for the first time.
"I feel very connected to my classmates after that project," Cowles said. "I love that it is a unique thing that hasn't been done before."
Humorous Stories is the only video on the channel so far. However, the acting showcase will be posted on Saturday, Oct. 17, where the students get to perform either one song or two monologues from any play or musical they choose. It is an exciting time for these eager actors and actresses to do what they love in uncharted waters.