The Father's Club graces students with burritos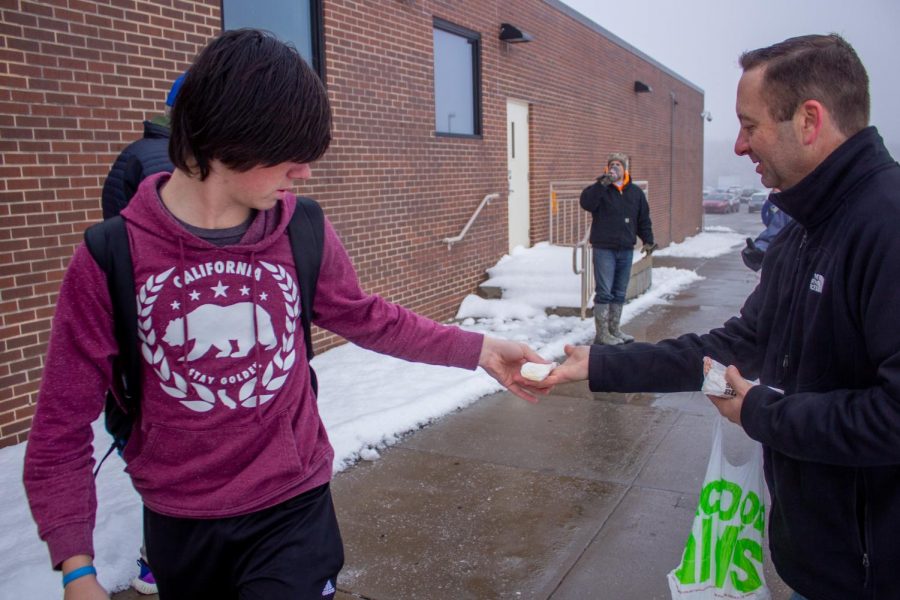 Megan Stoerman and Maddie Black, Reporters
December 17, 2019
With winter break soon upon us many students find themselves struggling to get to school and push through the last few days of finals. The Tuesday before finals The Father's Club made getting up and going to school a bit easier.
As students walked into school they were greeted with burritos from the McDonald's at 151st and I-35 who "really stepped up to help" according to a dad named Dave.
The dads voluntarily chose to pass out burritos because they were really convenient and easy to pass out.
The Father's Club was started this school year because some dads from the school wanted to "get involved and give back" according to Todd Garrett.
Garrett also said that the dads wanted to be a little bit of light and encouragement to young students during this hard week filled with finals. The dads hope that the movement spreads to other schools over the district to invest more in the students and spread happiness and encouragement.
Many dads decided to give back and help the students because Dave Miller brought up the idea to boost spirits during this dreary week.
The dads received all kinds of reactions as they passed out burritos.
Overall, the Father's Club has a goal of investing in the school and cheering on students, especially during this finals week.