Lopez' debut a success, sets up Royals' future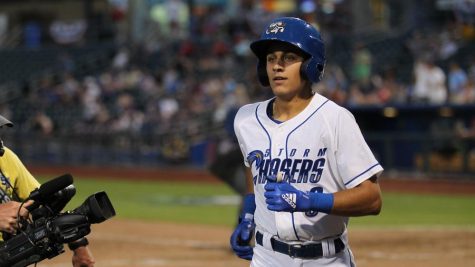 When the news broke on May 13 that the Kansas City Royals would call up their No. 8 prospect Nicky Lopez, fans were elated. Some, perhaps, enjoyed the prospect of a young 24-year-old getting a chance to live the dream that less than 20,000 people have experienced. Others might have wanted to see a fresh name in a depleted lineup that had just scored one run in its past two games. However, fans that closely monitor the Royals' farm system knew that it was more than that; the future of Royals baseball was fast approaching.
Going into this season for the Triple-A Omaha Storm Chasers, Lopez had high expectations. Coming off 2018 season in which he collected a .308 batting average and reached base at a .382 clip, even he couldn't have predicted the kind of performance he would have, as at the time of his call-up, he put up a ridiculous .353 batting average and a .457 on-base percentage. To make room on the 25-man roster, Jake Newberry, pitcher, was optioned to Omaha, while Frank Schwindel, first baseman, was designated for assignment to create an open spot on the 40-man roster.
Many expect Lopez to eventually take the spot of Chris Owings, utility player. After signing for $3 million in the offseason, Owings has been beyond every adjective that could possibly be used to describe terrible. Through 123 at-bats this year, he has been the worst qualified hitter in the Major Leagues, sporting a .138 batting average and a .203 on-base percentage, both dead-last across the league. His .439 OPS ranks second-worst in baseball, only to Jackie Bradley Jr., Red Sox outfielder.
Though Owings remained on the Major League roster, Lopez made his Major League debut on May 14 against Shelby Miller and the Texas Rangers, penciled into the starting lineup at second base and hitting in the second position. Though he flew out to left field in his first at-bat, it was a productive out, as it allowed Whit Merrifield to tag up and advance to third. He reached base in his second at-bat, grounding into a force out, and also recorded his first career walk in the next plate appearance. However, he flew out again to left field in the bottom of the fifth inning.
Lopez' fortunes seemed to turn for the better in his fourth at-bat in the bottom of the seventh inning. Playing before a crowd of 19,410 anxious people wanting to see him succeed, he delivered, hitting an opposite-field, line drive single that scored Merrifield, giving Lopez not only his first hit as a Royal, but his first RBI as well. The Royals won the game by a score of 11-5, and the Nicky Lopez era in Kansas City had begun.
Lopez would continue hitting on May 15, as he recorded his first multi-hit game and extra-base hit (a double) as a Major Leaguer. He hit two more doubles the next day in a 16-1 loss against the Rangers and got another hit the day after that.
Though it is an extremely small sample size, Lopez is hitting .375 with a .474 OBP and 1.036 OPS through his first four Major League games, a feat that has been a welcome surprise to a lineup that has been lifeless for weeks. Lopez is but a small cog in an increasingly complex machine that Dayton Moore, Royals general manager, is trying to put together in terms of prospects reaching the Major League level. Kelvin Gutierrez, third baseman, made his debut on April 27 and hit a respectable .281 during his cup-of-coffee stint. The quartet of 2018 draft picks Brady Singer, Jackson Kowar, Daniel Lynch and Kris Bubic, pitchers, have put up ERAs of 2.47, 2.72, 3.95 and 2.21 at Single-A, respectively, earning comparisons to the last core of pitching prospects (Danny Duffy, Mike Montgomery, Chris Dwyer and John Lamb, pitchers) that, in one way or another, helped bring a World Series championship back to Kansas City.
All Lopez can do is continue to produce. If he can continue this pace, he has a shot at leading the next generation of Royals to the promised land that is the World Series. It will rest not only on his shoulders, but on every prospect's, whether it be Seuly Matias or MJ Melendez, a core that could certainly deliver on all the hype that they have recieved.