In a league of their own—
Students develop exciting, competitive touch football organization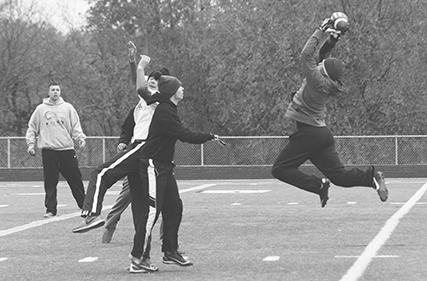 Touch football has been taken to new level.
The South Football League, run by Jack Murphy, junior, is a competitive touch football league that consists of eight teams, each with four players.
The league is primarily made up of guys from the Junior Class.
The teams meet on Saturday mornings at Olathe South and usually play two games that each last roughly 45 minutes in length.
The first team to five touchdowns wins the game. Teams must also win by two scores or more to officially record a victory.
Without a full offense and defense on the field, teams are forced to compensate.
"We usually have one quarterback and three receivers on offense and then run a zone defense," Murphy said.
These guys are serious about their league. When on the field, it is all about winning the game and taking the bragging rights.
"It gets intense and there is a lot of hype," Murphy said.
Off the field, Murphy runs the league's website, which is updated weekly with standings and scores. They even had a complete player draft and preseason power rankings for each team at the beginning of the season.
That website can be found at southleague.webs.com.
The league has a set rulebook, equipped with field dimensions, in-game rules and a roster change policy.
For the field dimensions, they play on a normal size football field, but only use half of it. One end zone is used and the other end zone is the 10 yards between the 40-yard line and the 50-yard line.
Out of bounds is marked from the left hash line over to the right side yard numbers.
The game rules are just as any other touch football game would be. However, some specifics are important.
Since the field is short, each team only gets four downs per possession. There are no first down opportunities.
A player must have two feet in bounds for a reception to count. Also, one free blitz of the quarterback, not preceded by a five second count, is allowed for each set of downs.
The roster change policy is as follows: Any team can have five players on game day, but one of the five has to be on the free agent list. That additional fifth player is commonly used when one of the original four cannot attend a game, but substitutions are allowed when all five players are present.
To compensate for an extra player, the team must release or trade a player following that day's set of games.
As of late, games have been played in the cold and even in the snow. Players can be see sporting leggings and thermal shirts to keep them warm.
"The cold weather and snow makes it more fun to play," Brian Sullivan, junior, said.
Sullivan, who was a team captain, no longer plays in the league and is in self-proclaimed retirement.
So far in the season, Team Dylan leads the league with a 7-1 record. Dylan Leonhart, junior, captains that team.
Team Alex, run by Alex Kunz, junior, and Team Joe, run by Joe Montgomery, junior, are not far behind first place. They both hold a 6-2 record on the season.
To decide a final champion, the league will host a tournament on Saturday, Dec. 6, and Saturday, Dec. 13.
The first two rounds will be played on Dec. 6, and the semifinal and championship round will be held on Dec. 13.
All games will be played on the turf field at Olathe South starting at 10 a.m.