Latin dancing—
Micah Doughty, junior, dances into focus with his unexpected hobby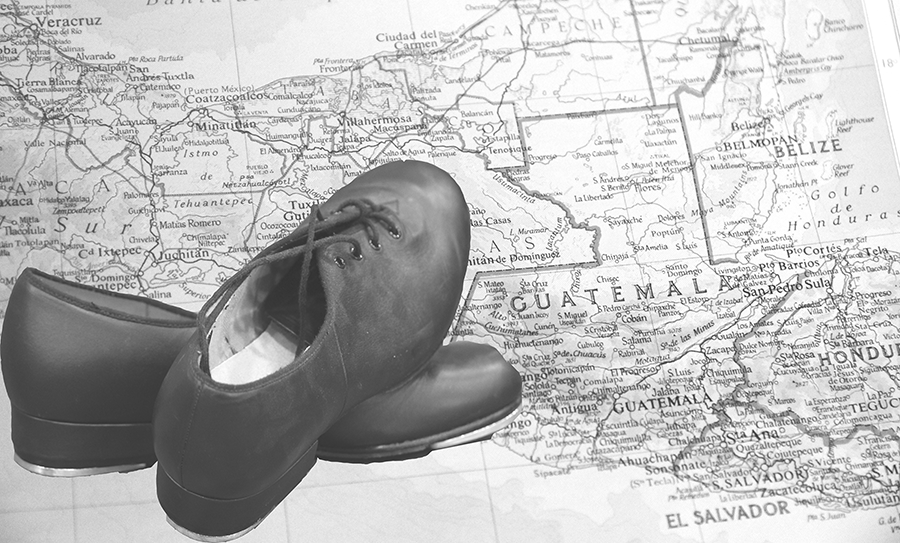 When one first sees Micah Doughty, junior, sporting his bleached mohawk, patched signature vest, combat boots and hardcore, punk-rock attitude, rarely is their first thought "That guy looks like a tap-dancer."
For Doughty, the usual surprise and shock others receive when they learn of his personal passion is fairly common. "It's pretty normal for people to be surprised. 'Oh, I never thought someone with a mohawk would tap dance' is usually the standard reaction," he said.
Doughty has been dancing for six to seven years now and has trained at The Culture House Academy of Performing Arts and with Marc Wayne, professional dancer.
He has not won any official awards for his tapping to date, but he's never really wanted any. Doughty doesn't dance for recognition, but rather for fun. He is trained to dance freestyle, rather than perform particular dance moves.
Doughty's family is extremely accepting and proud of his hobby. "I'm very proud of Micah. I love seeing him get so absorbed and into something he enjoys doing this much," Andi Fredrickson, Doughty's mother, said.
Doughty says his friends are also very supportive of his dancing skills and that he's never felt judged for doing what he loves just because it's different or out of the ordinary to others.
Dancing isn't his only musical skill. Doughty also plays the drum set in his crust punk band with Tanner Leon, junior, and Kyle Bullis, junior, and recently visited San Lucas, Guatemala, to teach local children about basic rhythm and other forms of art.
"We went… to teach kids all sorts of stuff, most of which had to do with the 'Lady of Guadalupe,'" Doughty said, the Lady of Guadalupe being a title for the biblical figure Mary.
The group Doughty traveled with held various lessons circled around the Lady, and he was assigned to help them learn a little song about her they could play along to.
"First, we had all the kids clap along to the song. Then we gave them little drums to play, too. All the while, I'd do the same rhythm with my hands and feet," Doughty said. "I even did a little freestyle tap dance for them to show off a bit at the end."
The whole experience was extremely fun and enlightening for both Doughty and the children. A local of San Lucas that spoke English even thanked him for teaching the children that they could be both proud and do fun, artistic things like dancing all at the same time.
Micah Doughty is definitely a strong, living example that a person can love many different types of things, regardless of what his appearance is.
He plans to keep dancing for a very, very long time.