Cracking up—Trainer helps condition, heal athletes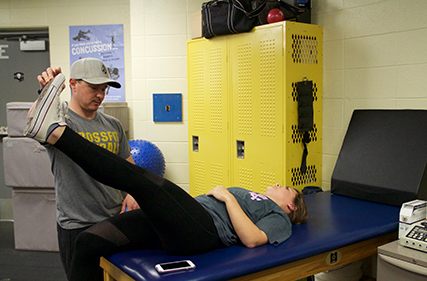 Injured? In need of extra strength and conditioning? Go see Dennis Dolan, trainer.
Dolan is a part of the SportsNet Athletic Trainers, which is under the sports medicine branch of the Olathe Health System (OHS). There are six OHS trainers that serve in eight area high schools, including all four Olathe Schools. Dolan is responsible for Olathe South only.
"The program that the Olathe Health System has developed over the last 30 years is the best around," Dolan said.
Dolan is a certified athletic trainer (ATC) and he has a bachelor's degree in Excercise Science and Athletic Training as well as a master's degree in Sport Science/Biomechanics. Both of the degrees are from the Univeristy of Kansas.
Athletes can find themselves in his office for various reasons, but injuries and rehab are the most common. Other services Dolan offers include offseason and pre season conditioning, nutritional guidance, taping/bracing and some sports psychology. The strength and conditioning piece is a valuable resource from Dolan as well as an important part of preventing injury for an athlete.
"My advice to athletes is to get involved with pre-season strength and conditioning to prepare your body for the rigors of the upcoming season," Dolan said. "It's not just about getting stronger, it's about proper posture and position while moving through space, force production and reduction and recovery techniques to keep you on the field and not in the athletic training room."
Jacob Wilburn, senior, was on the football team and found himself in Dolan's office a few times. A sprained ankle sophomore year would have normally put Wilburn on the sidelines for the following week. But, Dolan was able to provide Wilburn with exercises to do in place of practice so he was ready to go for the next week without losing anything.
"If you have a problem, you can go to Dennis. He can get you back on the field," Wilburn said.
According to Dolan, the goal for the OHS trainers is to provide complete access to their services while minimizing the athlete's time away from the classroom and their sport. When injured, the most important thing an athlete can do is communicate and be diligent to the recovery plan.
"The ATC [athletic trainer] should be the first one called regardless if other medical specialists are involved. I have an extensive network of health care providers at my disposal," Dolan said. "Not going through me can mean more time away from a sport."
Dolan is available in his office for any athlete needing medical attention during an on-campus game or practice. Additionally, he is responsible for attending any Olathe South sporting event held within the district. He must attend all football games, home and away.