Kostic wins school Shakespeare recitation contest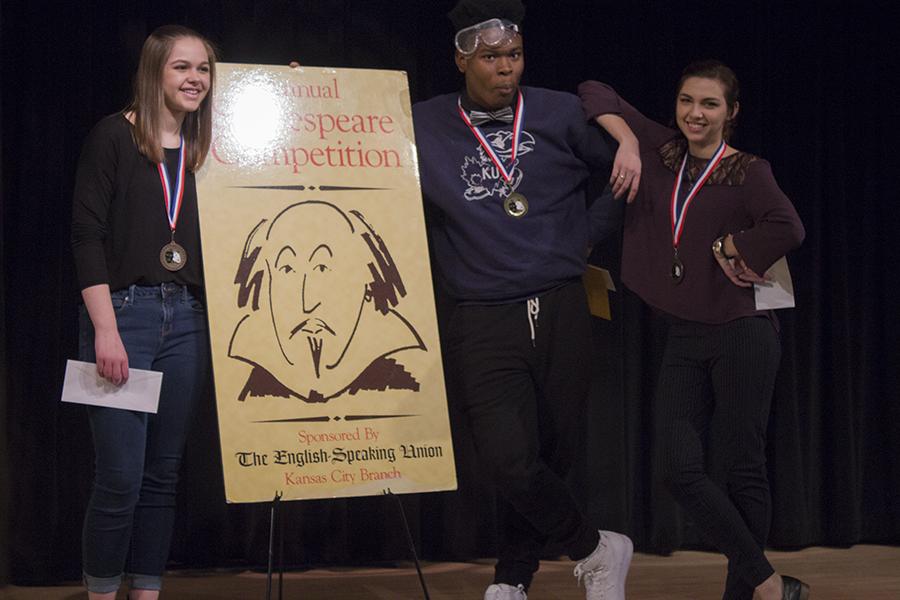 Aleks Kostic, senior, won first place in the school Shakespeare competition and will go on to compete at the English Speaking union's branch competition.
Second place went to last year's winner, Liam Chewning, senior. Emily Turner, junior, was awarded third place.
Kostic jokingly said that her "goal in most things" is to "destroy Liam's soul." Her actual goal was to "do well in this one."
The first place winner was given a $25 Target gift card; second place got a $15 target gift card; third place got a $10 Target gift card.
Kostic is now eligible for and plans to compete in the in the 33rd annual Kansas City Shakespeare competition, held by the Kansas City Branch of the English Speaking Union on February 19.
These semi-finals will be held at the Plaza Library, 4801 Main St., Kansas City, Mo.
Chewning won second place at the at the Kansas City branch semi-finals last year last year.
The winner of the Kansas City branch competition will be awarded a free trip to New York to compete at the national competition.
Three students from South have gone to compete at nationals in the past.
The winner of nationals will be awarded a free scholarship to learn acting in London for two weeks over the summer.
Kostic competed in the school competition with a monologue of Lady Macbeth from "Macbeth." "Lady Macbeth is one of the few strong female characters," she said.