Showing love for holiday traditions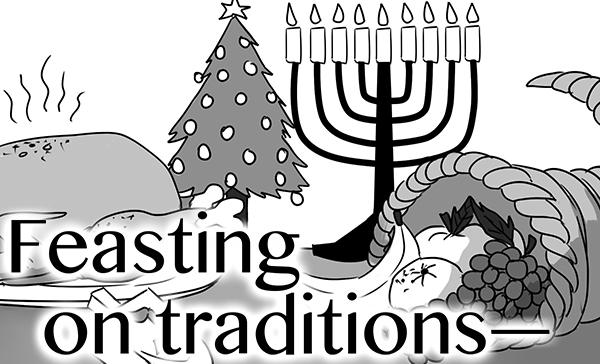 Holiday traditions happen everywhere. Some are passed down through families, and others are made up just to pass time and end up sticking through the years.
Either way, some traditions can be as simple as just opening presents on Christmas Day or eating a big feast and saying what you're thankful for on Thanksgiving.
Others are a little more unique. Rachel Engeman, junior, celebrates Christmas as any other person would, but because of her German descent they switch it up on Christmas Eve.
"On Christmas Eve, my family tells old German tales, like Krampus, at midnight," Engeman said.
On Christmas Day she and her family wake up at 6 in the morning and eat bierocks, calzones filled with meat and cabbage.
After breakfast, the Engemans drive to different towns, including Atchison, Manhattan and another small town.
They then enjoy singing German songs for people and close family and friends.
"I like that it's a unique tradition, and it's always nice seeing my family of different cultures," Engeman said.
Another unique tradition happens in the house of Hayley Nitz, senior.
She spends her time with her family as well, but they like to get together at the Nitz home and play board games.
Thanksgiving in the Nitz house is a feast of potluck food.
Everyone in her family comes to her house and brings their favorite dish to share with the family.
Her family likes to think ahead to Christmas, so they pull names for their Secret Santa for when Christmas comes around.
"During Christmas, my family likes to play Bunko, which is a dice game," Nitz said. Her family finds the game really fun because everyone gets really into it.
She enjoys the fact that she gets to see her cousins because shes does not get to see them very often throughout the year.
"Having my cousins around is very entertaining because they are all little and full of energy," Nitz said.
Her traditions have been known to her for as long as she can remember. Growing up around her family during the holidays really helps keep them close.
Family is an important element to Levi Burkett and Tre Adger, seniors.
"I think it's fun to hang out with family and eat a bunch of food while watching football," Burkett said.
And that is exactly what he does during Thanksgiving while spending it at his aunt's house.
Adger also like to spend his time watching football but does it in the comfort of his own home with his family.
Around Christmas, Burkett's immediate family likes to spend time learning and reading about the story of Jesus' birth.
Other than that, Christmas is celebrated by waking up early and opening presents for the both of them.
As for everyone else, holiday traditions are different, but they are a time to spend with family or doing something really fun with the people close to them.