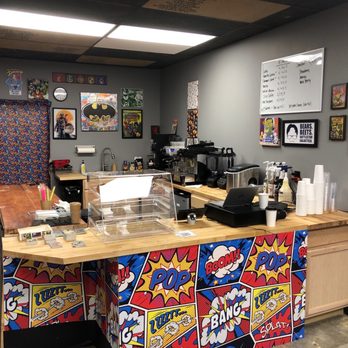 The first thing you'll notice upon walking into Comic Coffeehouse is the unique atmosphere. Plastered onto the wall to your right is a series of comic-style onomatopoeias complete with halftones and all. You'll also find a selection of retro consoles inviting you to play.
On your left, you'll find hundreds of comic books pinned up on the walls, and more on tables for you to pick up and read. You'll hear quiet music, the sounds of coffee being brewed, whipped cream being sprayed, and a faint clanging of various utensils as your drink is prepared. You'll realize this place is different.
Comic Coffeehouse, nestled tightly in the 151st and Ridgeview strip mall (with Pizza Shoppe and Jumpin' Catfish), is exactly what it sounds like: a coffeehouse with a great emphasis on appreciation of the comic, retro aesthetic. 
Run by husband and wife Michael and Vania Gladney, this coffee shop is the perfect place for comic, superhero, and cinematic universe nerds. 
You are enabled to indulge in their wide range of comics and retro video games and have conversations about them.
But this is not to say the shop is exclusive to people with these interests. I visited this shop having never read a comic book in my life and not having watched a MCU or DCU movie since 2018, and I felt comfortable in the space. 
I spent the majority of my time lounging on big bean bag chairs in a corner of the shop, playing Super Mario Bros on one of their consoles with two friends.
The coffee is just what you'd expect. They have a medium sized menu with specialty drinks (including Olathe South's very own Golden Falcon!), in whole, oat, and almond milk options. Whatever dietary/allergy/personal needs you need to accommodate, Comic Coffeehouse should have an option for you. 
I opted to go simple, and got an Iced Caramel Frappe with whole milk. As somebody who doesn't drink a lot of coffee, I decided to start with something I'd had before so I had a point of reference. 
The drink was noticeably sweet with the creamer and hint of caramel, but the distinct coffee taste was still there. With the whole milk, these were the only tastes that I noticed. 
The chunks of ice in the drink were slightly larger than I had hoped for, and I did have to chew a little while drinking. That said, it was just like any other iced coffee I'd had before.
I also tried a Golden Falcon with almond milk, and my only complaint is that the taste of the almond milk was very overpowering; I could not taste anything else.
There is, however, one major flaw with Comic Coffeehouse. 
While the environment and aesthetic are captured and presented beautifully, there is one missing component. 
Think about what people most often visit coffee shops for. When I think coffee shop, I think socializing. I think a space where you can let your words run free. 
At Comic Coffeehouse, you are most certainly enabled to do this with other customers. If you take a few friends, you should have a great time exploring the comics and video games. 
But what if you don't? What if you see a new coffee shop in the neighborhood on your weekend morning commute and decide to give it a shot? 
Unfortunately, that's where we run into my one problem with Comic Coffeehouse. The Customer Service. The quality of individual focus. 
Nobody is rude at Comic Coffeehouse. Nobody neglects to make sure your order is correct. Nobody will make you feel like you're being judged. 
However, nobody is going to make sure you are enjoying your stay. Nobody is going to make small talk with you or introduce you to the operation and your unique opportunities at Comic Coffeehouse. 
I walked through the door ready to spark a connection with the barista, but there was no spark. The lighter had no fuel. 
I pushed to carry a conversation and maybe learn a little bit about the shop, but I was met with one word responses from the owner/barista and no momentum. 
I felt comfortable in Comic Coffeehouse, but I did not feel particularly invited. I did not feel special.
Regardless, I enjoyed my visit to Comic Coffeehouse. If you're looking to try out a new local spot, or you're a comic book lover, it's definitely a place worth visiting. Show up with a couple friends, sip some coffee, and indulge in the various activities offered!