Halloween For High Schoolers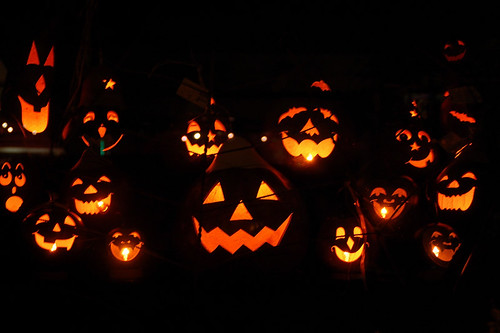 At long last, after 3 sweltering months of heatwaves, ice-cold glasses of water and swimsuits, autumn has arrived! For many people this means reorganizing the closet for easy access to fuzzy jackets and warm sweatpants, sitting outside in the evening to watch the autumn breeze tear the changing leaves from the trees or cozying up underneath a warm blanket with a fall candle and a pumpkin-spice latte. 
   These things are all part of the season of change that we call fall, and during this season also comes a holiday that is equally anticipated among children and teenagers alike. The holiday of ghosts illuminating bedroom windows, horror movies playing out ghastly scenes on the TV to a terrified audience and children in matching costumes running up and down the streets carrying pumpkin baskets brimming with candy. It's Halloween, guys! Spoooooky Season is here! What does this mean for you? Trick or treating? Halloween parties? Movie night? Or do you celebrate Halloween at all? While the holiday typically fades as one ages, there are still opportunities for high schoolers to go out and have fun on this night. Some people, including freshman Keira Spence, still spend the night of October 31st roaming the neighborhood with their friends, decked out in fun costumes.
     "I always hang out with my friends, and sometimes we trick-or-treat," Spence said. "This Halloween, I'm going to be Mike Wazowski."
     Junior Maria Blalock, connaisseur of horror film merchandise and halloween extraordinaire, also trick-or-treats every Halloween night. "This Halloween, I'm hanging out with my girlfriend and going trick-or-treating." Blalock said. "I love Halloween, especially the part where I dress up and scare people."
     Trick-or-treating, for many teenagers, is a special tradition or just something fun that they always enjoy. Because of this, they try to preserve the holiday as much as they possibly can. Sophomore Kierra Getz also celebrates Halloween by trick-or-treating, with a little of her own tradition thrown in.
     "I usually hang out with my friends, make cookies or cupcakes, and then go trick or treating!" Getz said. She also seems to be a firm believer in being able to trick-or-treat long into your high-school years, and beyond. "I believe that 30 is too old to trick-or-treat, unless you have children. Otherwise, you're just a middle-aged person being creepy." Getz said.
     Sophomore Tanner Register shares a similar viewpoint. "Every Halloween, I find a random costume, knock on stranger's doors, and expect candy." Register said. "You're never too old to trick or treat. Anyone can trick-or-treat, as long as they have a costume. But, maybe not old men."
     Scary movies are also premiering this season in the homes of many high-schoolers. A fan-favorite is to curl up on the couch with popcorn, a friend (or 3), and turn on the latest horror flick for you to scream at for the next 2 hours. Senior Deborah Kelecha's Halloween usually looks like this. 
     "On Halloween, I usually dress up with my friends and watch movies." Kelecha said. "I'm planning on doing a Tim Burton Marathon, because scary movies scare me. I'm also going to dress up as hex girls with a few friends."
     With the holiday approaching, costumes are being shipped or created, TV's are being fired up, and scary decorations are appearing on the front porches in all the neighborhoods, lighting up the night streets with eerie glows and spooky sounds. And as children fill the sidewalks, join them!! You're never too old to have fun. Plus ….. free candy, guys. What more can be said? So, this Halloween, boot up that movie or slip into that weird costume, and just have fun!