History of Spooky Stories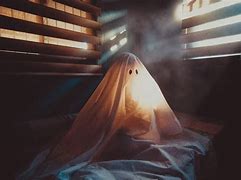 In Western literature, the genre of fear and curiosity, or in other words, horror, began to emerge in the 18th-century pre-Romantic era with the gothic novel Castle of Otranto.  But Spooky stories have also been around since Ancient Greek and Roman times, at that time horror stories explored themes related to death, demons, evil spirits, and the afterlife. The key focus of a horror novel, horror film, or horror TV show, is to evoke a sense of dread in the reader through frightening images, themes, and situations. Horror is important because it reminds people of their humanity. No issue is too big or too small to be handled by horror. So many works in the genre take accessible, everyday human concepts and shine new light on them. By doing this the reader can relate to the characters making it easier to feel connected to them, causing the reader to want the character to be safe at the end of the story. Authors can bend and twist the story to keep the audience interested and on edge, especially in most horror stories, there are lots of twists and turns.
This genre of horror was invented by Horace Walpole (his birth name is Horatio Walpole) he wrote the gothic novel Castle of Otranto. The Castle of Otranto was written sometime between 1095 and 1243 (during the Crusades). This gothic novel helped to set horror stories as a solid literary form and genre; it challenged the idea of fear and shock which helped to set the horror genre into place to be applied to other authors' writings in horror novels. Walpole was a famous historian. He was born on Sept. 24, 1717, in England, also well known as an eighteenth-century art historian, author, and Whig member of the British Parliament. 
He is most remembered for building Strawberry Hill, a Gothic revival mansion., in Twickenham, England which helped bring back the Gothic architectural style. Walpole was said to be fascinated with medieval history, he built his house to resemble a medieval castle and named it Strawberry Hill. Strawberry Hill was the stimulus for the Gothic Revival style in English domestic architecture. Building this house created inspiration for his book Castle of Otranto, he wrote the whole story based on medieval times, placing characters living in castles and wearing medieval clothing.