Olathe schools participate in suicide prevention week
Over the years, students have seen more and more done for suicide prevention week. This can vary between schools due to differences in staff participation. However when COVID hit it was harder for all the schools to show support. 
Olathe South has had bigger shoes to fill due to two suicides over the summer. Over the week, with a table in the commons, during each lunch hour counselors and students covered a window full of sticky notes that students had written coping notes on. For doing this they got a cupcake. At the end of the week, administrators handed out stickers and cupcakes at the end of the day. The most impactful group was the students who were willing to help the counselors during this week, showing they cared so much about their fellow students
Olathe West started brainstorming ideas for suicide prevention week when students returned to school in August and enlisted help from students and parents to plan the activities. 
They had an Academic Intervention lesson the week of September 5 about the new 988 Suicide Lifeline and passed out suicide prevention cards, ribbons and lifesavers during lunch. The Olathe West fathers passed out donuts before school one day.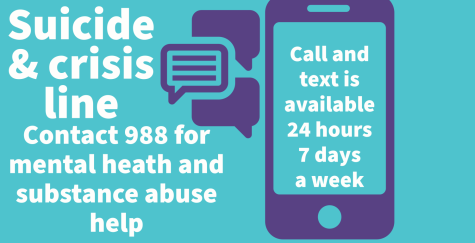 "Suicide prevention is always important to West, so they will continue to work with students and staff in planning future events to ensure that we are effective in our efforts." Natalie Schmidt-Konkel counselor at Olathe West
 It was a team effort of counselors, administrators as well as student and parent clubs. They are happy with how this year went, but always want to be improving on what they do year after year. 
For suicide prevention week, Olathe Northwest did a table and raffle. The table was up during all lunch hours, and counselors asked students what their coping skills were. Students who wrote their names on a large sheet of paper could enter the raffle and get a Life-Saver. The drawing allowed them to choose from prizes of candy, coloring books, fidgets etc.
At the table, there were coping skill handouts, 988 cards, and stickers. Teachers and staff were encouraged to share their coping skills as well.
The counseling department as well as the school psychologist​​ and social worker brainstormed ideas of how this was going to work. The counseling department took turns managing the table. This was an excellent way to reach as many kids as possible as well as make their resources visible.
Olathe East held daily activities during lunch each day of the week and self-care advisory lessons including information on the new 988 number. The counseling team and the Be the Voice Club collaborated to plan the week. Be the Voice is a mental health advocacy club at Olathe East that promotes positivity and mental wellness. Our mission is to support students by removing the stigma and normalizing conversations about mental health
East would always love to have more positive messaging letting their students know how valuable they are to them. "East felt they did better than last year because they felt as if they were better able to interact with their students and didn't have to worry about social distancing," Ms. Schmale counselor at Olathe Northwest said.