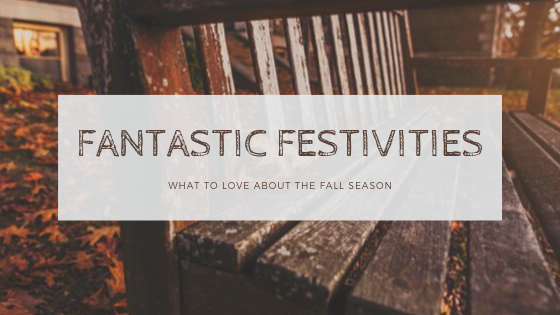 Imagine this: temperatures dropping, the leaves falling amongst the thrill of All Hallows' Eve, and citizens all around beating to the drums of blessings and thanks as the country celebrates Thanksgiving. This seems like the perfect fall season, but then individuals slowly realize that it is hard to come up with jovial ways to celebrate this most magnificent time of the year. Well, you are in luck because here at the Eyrie we have some fantastic fall festivities all lined up for you.
From cider mills, to apple picking to pumpkin carving, nature is just begging to be celebrated as it slowly gets ready for its cold winter slumber. One of the best cider mills around is Louisberg Cider Mill. This small getaway to Louisberg, Kan. is a fan favorite and rightfully so. With its cider donuts, corn mazes, and all-around fall aesthetic, many find this little place the perfect addition to any fall day and the season not the same without it. One other cider mill is Dunn's cider mill in Belton, Mo. This hidden gem is not as well-known as Louisberg so it adds a little ma and pop feel to the ordinary cider mill experience. With their crowd pleasing donuts in both the plain and sugared variety, everyone will find something to love at Dunn's.
Now that tummies are full and kids are tuckered out, why not hunker down for a movie night or even go around and say what everyone is thankful for? Movies such as "Halloweentown" and "Twitches" will bring back that beautiful nostalgia of the season. Other great movies to snuggle up and watch with loved ones are the classic "Hocus Pocus" "Beetlejuice," and the fan favorite "It's the Great Pumpkin Charlie Brown." After the movie when everyone is feeling warm and fuzzy why not go around and share memories from the past year and thanking those around for the impact that they have had?
If individuals are more inclined towards actually getting scared when it gets closer to Halloween, visiting haunted houses in the surrounding neighborhoods or even stepping foot into Worlds of Fun's Halloween Haunt-where some may not actually have worlds of fun- are both great ideas. Scary movies are also an alternative to leaving the house and instead getting scared in comfort of the one's own living room. Some classic scary movies include "A Nightmare on Elm Street," "Friday the 13th" and "Ghostbusters" to err on the side of caution.
With the falling temperatures fast approaching, everyone must be prepared with a new beautiful array of fall sweaters and other must-have snuggly but chic outfits. Some favorite stores to go shopping at are Target, Old Navy, American Eagle, H&M, Altr'd State, and the good ol' trusty Marshalls.
Now that a new outfit has been chosen why not plan a friendsgiving? This activity is basically a Thanksgiving get together with friends where consuming copious amounts of pie and watching even more Halloween, Thanksgiving, and dare I say Christmas movies are celebrated. The best part of friendsgivings is that everyone gets to decide what kind of food is prepared, so say goodbye to the foods that are not fan favorites and hello to a whole meal filled with mashed potatoes, stuffing, bread rolls, and even more pie.
This has been the master list of fantastic fall festivities that will surely help everyone celebrate this time of year to the fullest. Hopefully Kansas City gets a fall this year and does not go from the blistering hot to the frigid cold. Oh well, we are still in Kansas Toto.