Students not eager to see December releases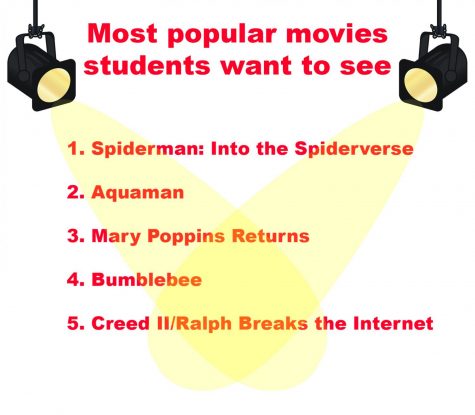 The Eyrie surveyed students about recent and upcoming movie releases they might want to see during winter break and their general feelings towards the box office today.
"Spiderman: Into the Spiderverse" was the most anticipated film among the survey participants; however, a lot of students did not want to see any upcoming films for a variety of reasons.
Some of these reasons are related to the films' content.
"There is only money in filmnow instead of a theme or nice experience," Kyle Sheffer, findgrade, said. "Films are mostly just superhero and that's it."
Some people feel that movies are not original anymore.
"I think the problem is a lack of unique ideas. The majority of films are almost the same," Maryna Kucinich, findgrade, said.
Students also felt there were things theaters could do to convince students to see more movies.
Athena Westphal,senior, wanted theaters such as AMC to have better movie times and prices, more available seating and cheaper food.
The survey found that, following Spiderman, the next most popular movies were, from most to least, "Aquaman," "Mary Poppins Returns" and "Bumblebee."
Students also saw or wanted to see movies released before and during Thanksgiving break, such as "The Grinch," "Ralph Breaks the Internet," "Creed II" and "Bohemian Rhapsody."