'Blink 182'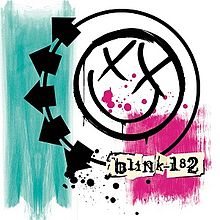 Fifteen years ago, Blink-182 embarked on a mission to produce an album that would be even better than their previous album, "Take Off Your Pants and Jacket." They accomplished that goal, releasing their self-titled album, their greatest album to date.
Focused on more serious topics than in the past, this album is usually pointed to by fans as the point where the band matures with songs such as "I Miss You," "All of This," and "Stockholm Syndrome."
  The album leads off with "Feeling This," which is arguably the best song on the album. "Asthenia" and "Always," which essentially function as one song, is another highlight, diving deep into the thought of losing all memory and is thought of as one of the most obvious signs of experimentation, which is what this album is all about. It wraps up perfectly with "All of This," the deepest and most serious song of the album with a chorus singing "use me, Holly," signifying a cheating girlfriend that was just using boys.
More cheerful songs are also heard on the album, such as "Here's Your Letter," which is a fan-favorite about having to let go of a bad relationship and eventually just having to throw it away.
Overall this is likely Blink-182's greatest album. In the fifteen years since its release, nothing they have released has been close to being this good, nor has anything they had released on their previous three albums.