Why is being a visual captain enjoyable for Shaun Carrier?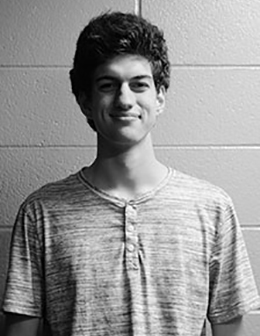 Shaun Carrier, 17, senior, is visual captain and percussionist here at Olathe South. 
"My mom really wanted one of her two sons to be a percussionist and my older brother passed the baton down to me." 
Shaun started playing when he was a mere ten years old. 
He sees drumming as an extra cirricular activity in college rather than a possible future career pursuit. Instead he says it is a fun hobby that he enjoys participating in. 
As visual captain he guides everyone in the band to look as good as possible when they are having a performance. Student held positions that will go to their section, while Carrier will be guiding everyone while marching and  he will also give them tips on  things to improve on for their next performance. 
"I auditioned last March for the visual captain position because I believed I was capable and I wanted to help. It's a lot of fun because I think I'm helping kids throughout the season," Carrier said when asked about what he enjoys about captaining.
Carrier will cherish every moment he can until the very end, when he is no longer able to play percussion, as to create the best possible memories of his time as the visual captain and as a percussionist of the Olathe South band.