Students have options for homecoming
With homecoming fast approaching, students are often overcome with the task of finding an outfit, flowers, and how to do their makeup, hair, and nails.
Finding where to buy a homecoming dress is a daunting task for most girls. With all of the options and styles, finding something that works best for you can be tough. But never fear because here are some of the favorite places to buy dresses from the students interviewed. Some in person favorites were Windsor and Macy's. Many students also ended up buying their dresses online from a stores like Promgirl or Lulu's. The only downside of buying dresses online is that sizing can be difficult, but on the plus side dresses are typically less expensive.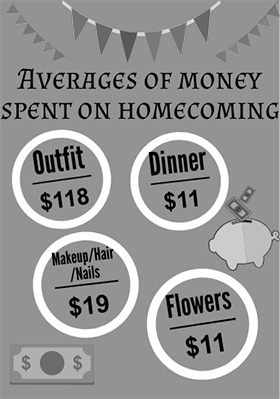 These stores all have a variety of styles of dresses and are guaranteed to have something that will be perfect for everyone. Other places that students like are Kohl's, Dillard's, Camile, Altr'd State, and Rue 21. Even though these places might not be as popular they will still have a great selection.
Getting your date flowers such as corsage or boutonniere is also very popular among students, plus they look great in pictures and are a fun memento from the dance. Popular places to buy your flowers are Hyvee and the Flowerman. However, do not feel pressured to buy flowers because surveys show that 36 percent of people, or four out of 11 people surveyed did not buy any.
Service at both Hyvee and the Flowerman was reported of being good and friendly. The flowers at both establishments were also said to have been in good condition. So, really it is a toss-up between Hyvee and the Flowerman. Nevertheless, you are destined to be happy with your flora no matter which shop you buy them from.
Deciding where to or not have your makeup, hair, and nails done can somewhere can also be a daunting task. Though never fear because many students reported also having done these things at home. The good thing about doing these on your own is that you get to decide 100 percent how it looks and it will not cost you any additional dime. One place that was recommended to have these done at was Essnails if you do not want to do them on your own.
Even though all of these are big decisions do not forget to have fun at homecoming, Falcons, and remember that where you buy or not buy these things only matters for a small moment.