'Twenty one pilots'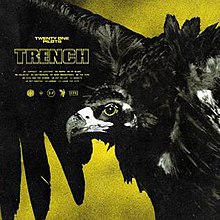 Twenty one pilots' new album "Trench", which may be one of the most hyped-up albums of all time, will release on Oct. 5.
Four singles were released from July through Sept. "My Blood", "Jumpsuit", "Levitate", and "Nico And The Niners" make up the EP "My Blood and Few Others From Trench".
The album's sound varies greatly, and listeners often do not know what is coming next. This refreshing version of pop/rock makes "Trench" stand out.
"My Blood" tends to have repetitive lyrics, but the instrumentals make it just as unique as the rest of the album.
"Nico and The Niners" tends to be the most popular song within the fan base because of the prominent ukulele sound. 
Tyler Joseph and Josh Dun are the two sole members of twenty one pilots. Joseph is the lead singer and keyboardist, and Dun plays the drums. 
The "Trench" tour has sold out every show in the United States. The tour starts in September and will continue throughout 2019. 
Before twenty one pilots announced their new album, the band members took a year long break.
In an interview with Alternative Press, Josh Dun stated, "During the time where we were creating and working, we kind of wanted to just step back a little bit, and be present in that world,"
Overall, "Trench" is estimated to be an extremely successful album full of references to past albums and fan-pleasing content.