What's Brittany Taylor's favorite thing about performing?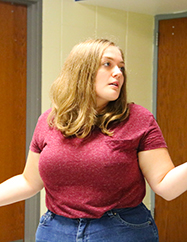 Brittany Taylor has spent the past six years invested in theatre productions, rehearsing for musicals, and planning to continue doing so in the future.
Taylor may be involved in a lot of activities, but theatre has always been her favorite.
"I love that it allows me to embody other characters. I think it's cool. I like to have that feeling of accomplishment.," Taylor said.
One day she hopes to perform "The Phantom of the Opera", or the opera "Carmen," but her favorite performance from highschool was "Peter and the Starcatcher."
According to Taylor, the best part of a production is "probably the feeling of self accomplishment" and that she gets to "share her talent with other people."
Each production goes about the same way: an audition, then a callback, then rehearsals all the way up until the show.
"The hardest part of performing is probably when I'm unable to get something right. I want to be perfect, polished, clean," Taylor said.
She loves almost every single aspect of singing and acting on stage, and mostly feels a sense of pride after she finishes a show.
As to whether she prefers acting or singing, she said with a huge smile that "really, whenever you're singing, you have to act with it. I just really love both."