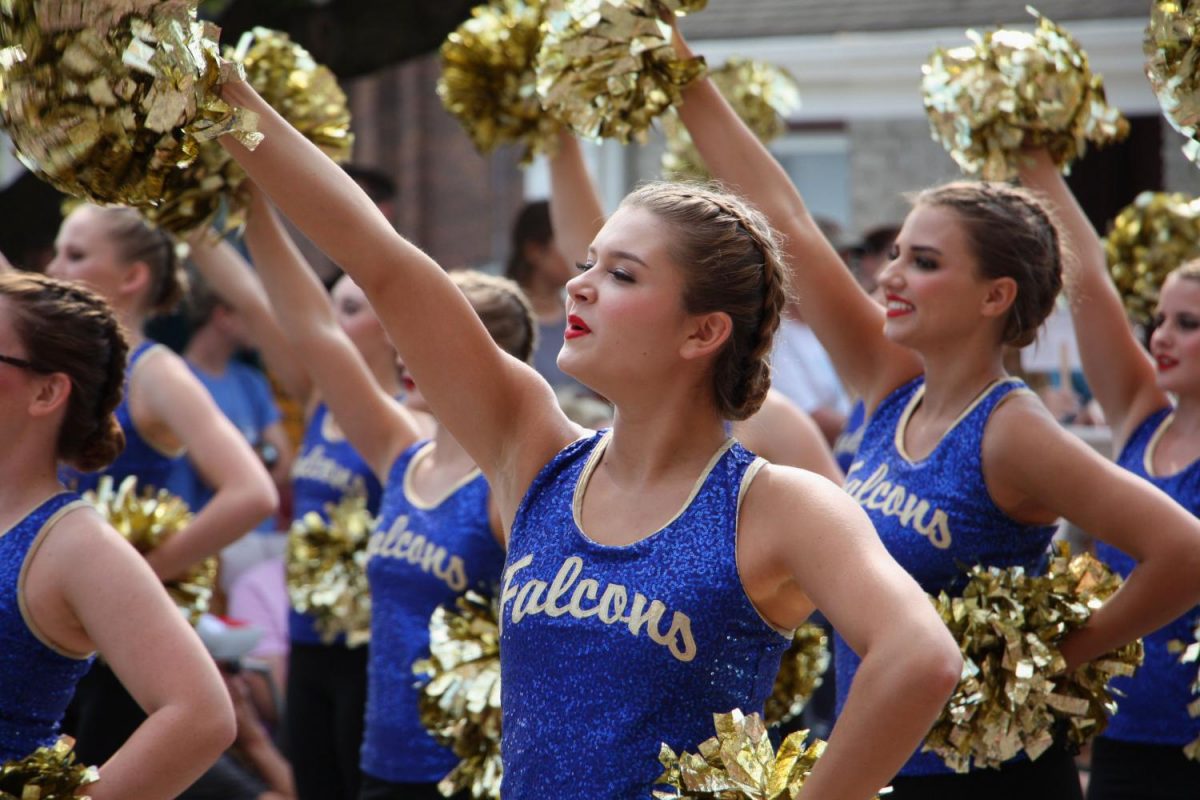 Members of the Falcon Regiment, drill team and cheerleading squad participated in the 119th annual Old Settlers Day Parade on Saturday morning, Sept. 9.
While marching, the band alternated between the Olathe South fight song and an arrangement of 'Carry on My Wayward Son' according to Chad Coughlin, band director.
Last year, the band chose the music they needed perform for this school year.
The band was expected to practice the music over the summer and have it memorized by the time school started.
Coughlin said that ", The style of marching is a little different that what we do for our field show, so we will spend time in the three to five of our morning rehearsals working on parade marching and we also rehearse the music to make our performance more refined."
The band also played downtown on Tuesday, Sept 7.
The drill team and cheerleaders were marching alongside the band during the parade.
The two teams started planing their parade dance routines based on the music that the band was playing.
"The parade is such a fun local event," said Victoria Palomino, head drill team coach, "A lot of community members who never get a chance to see us perform come out to the parade, so it's a great event to showcase our school spirit."
The cheerleaders march in the parade as well as dance along to the beat.
The Cheerleaders placed third as a marching group.
"The best part for me is seeing so many people in our community enjoying the parade and the bands performing in it," Coughlin said, "The worst part are the years when it is extremely hot on the days of the parade."
After the parade people from all over can enjoy the fair's rides and food all throughout the night and into the weekend.
There were also concerts by local bands and artists for the crowd to enjoy.
Additionally, many businesses and charities set up booths along the fair grounds in order to gain more customers and donations