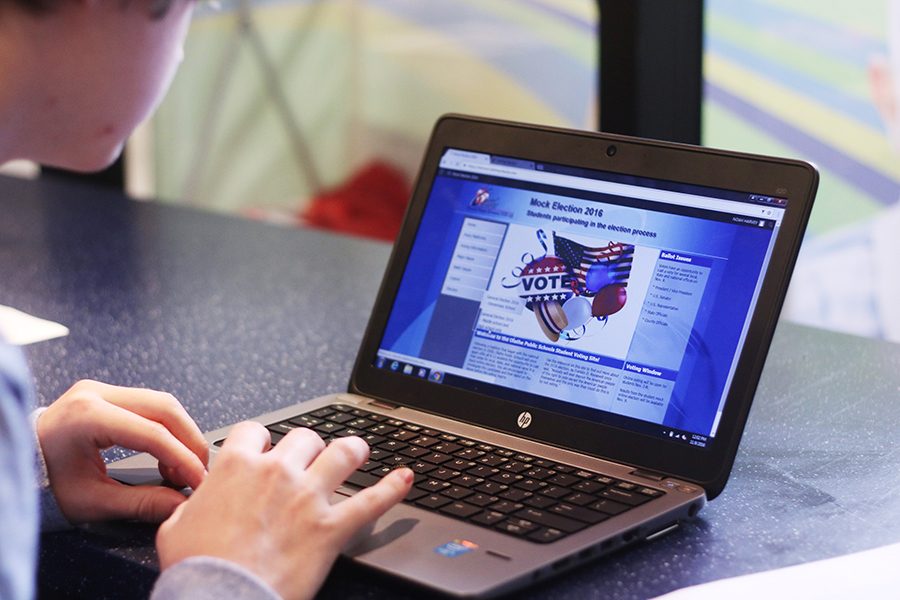 Emmalee Reed
If Olathe students were the ones voting in the election, Hillary Clinton would be the next president elect.
Mock elections were held all over the district to find the students' preferred candidate: Clinton, Donald Trump, Jill Stein or Gary Johnson.
The survey was conducted in history classes as well as government classes, but any student that wished to vote was allowed to participate.
Voters received an "I Voted" sticker after completing their voting in order to make the experience as close to real voting booths as possible.
The goal was to get students as used to voting as possible before they participate in the next real election in 2020.
Carol Nycklemoe, history teacher, said, "Every four years the district does one to give students the opportunity to experience the process" and that they want to "give them as authentic of an experience as possible."
There was a link to the page for voting on the Olathe Schools website, and any student was able to vote with it before polls closed on Nov. 8.
Students not only chose the president; they participated with a simulation of a real voting ballot, so they voted on senators, judges, and other government decisions.
Voting occurred in elementary, middle and high schools throughout the Olathe District.
Overall, the combined middle and high school votes favored Clinton 3,878 votes to Trump's 3,546 with 883 votes for Johnson and 571 for Stein.
The elementary schools also preferred Clinton with 2,539 votes over Trump's 2,032 with Johnson receiving 404 votes and Stein receiving 236.
Trump followed Clinton closely, and he ended up in second place.