Main Event's format gets mixed reviews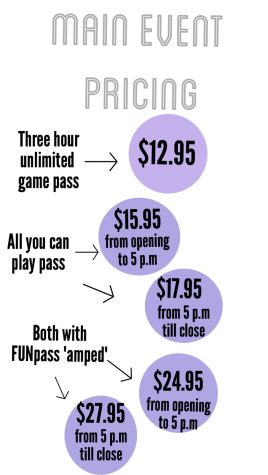 A new business for entertainment has opened up in town that offers a variety of activities.
Main Event, located at 11950 E. Kansas City Rd., offers bowling, laser tag and arcade style gaming. Because it's a relatively new establishment, not many people are aware of what the new business has to offer.
Sarah Buehler, junior, said, "It has everything laser tag, bowling and arcade games so that makes it convenient."
The costs associated with each activity vary on how many people are participating and how many activities a group wishes to do. Up to six people can bowl for $36 plus the $3.95 fee per person for renting shoes.
Emmalee Reed, senior, said "It looks fun for the kids."
Playing the arcade games can be costly, but a three- hour unlimited game pass can be purchased for $12.95. There are some limitations to the games a person can play, however. But that can be remedied by loading money onto an account.
The arcade games offered are the typical kind found at any place like Main Event.
However, the limited amount of arcade games offered can be a negative.
"You run out of things to do in the arcade. It's not worth three hours," Buehler said.
Walking in for the first time can be intimidating, as there is no clear path of organization especially when large crowds of people are there. There is no clear start path and everything is jumbled together, making it very difficult to know where to begin, especially when it's a persons first time at Main Event.
"It's very unorganized and confusing," Reed said.
But, the front desk is a good place to start and the workers assist the customers with their needs.
However, if a person goes at the wrong time, waiting time for bowling and the restaurants can take hours. Some cases have resulted in two to three hour wait times just to bowl.
Delaney Garrelts, junior, said, "It's too loud and disorganized."
Food can be purchased, and there are two food establishments. One is a restaurant that requires seating, but the same menu is offered at the bowling alley.
The other restaurant served pizza and gelato in a cafeteria-esque fashion.
Though Main Event has a lot of things to offer, it may not be the choice hangout of high schoolers.
"They have smushed kid things and adult things together in way that doesn't work," Reed said.
Another drawback can be the crowds.
"It's so crowded I didn't even have a place to walk," Buehler said.
All in all, it can be a good place to go if planned during there least busy hours and there are enough people in the party to enjoy a little bit of everything.