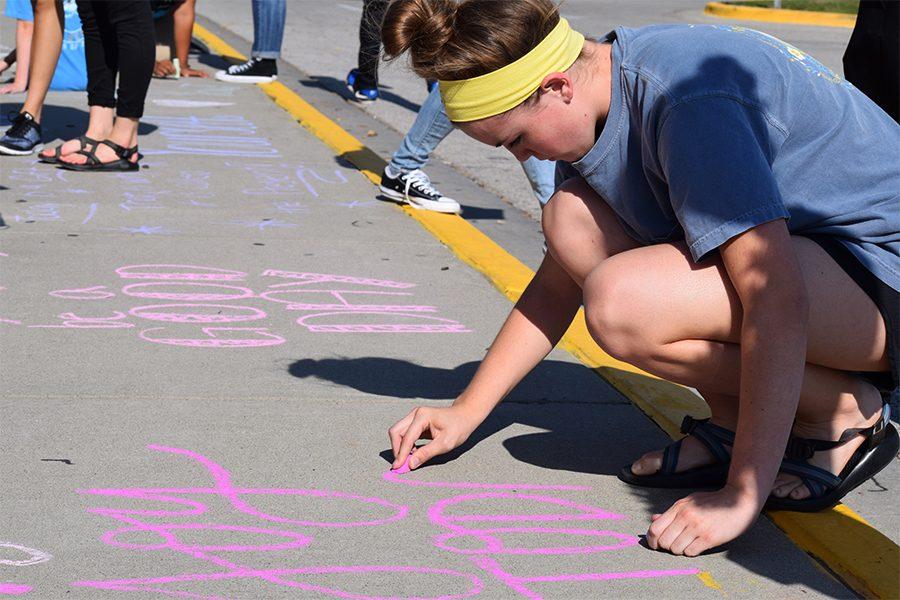 Hannah Alleyne
Laughter and overlapping chatter echoed off the brick walls as students used chalk to write inspirational phrases on the sidewalks of the school to be read by their peers, hoping their work wasn't washed off in the week's forecast of rain.
Kindness in Chalk is a national event on Oct. 3 where people gathered to write kind phrases in the name of ending bullying. The event will continue for many generations of students.
The Kindness in Chalk event was hosted by StuCo after school for about 45 minutes. They invited students to join in writing uplifting and supportive messages for fellow students to read and to take comfort in. About 60 students participated in Kindness in Chalk this year, said Jennifer Schlicht, StuCo co-sponsor.
StuCo members were very excited to be involved in such a helpful event. Haley Garnett, freshman, said that "Kindness in Chalk is showing people that they're loved" and that it was "something to make them feel better."
Lexi Tyler, freshman, said that Kindness in Chalk was made for "giving people something to look at" and "telling them they're great."
While StuCo hosted the event, several people outside of the club participated, such as Hattie Roberts, senior, who was simply there to encourage her peers. Roberts described Kindness in Chalk as "artwork for motivational purposes." Roberts wanted to help students and make them happy through writing.
Kindness in Chalk, an event for helping people who are struggling, was also an event that brought students from several different groups together for the purpose of serving the school and lifting each other up.  Kindness in Chalk is intended to address bullying and make a more positive school, a cause that students gathered and worked for.