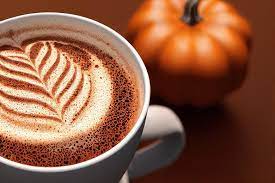 Caffeine. We all love it. We all need it, or so we've convinced ourselves. Lattes, macchiatos, mochas, espressos, cappuccinos, you name it. However, as the seasons change, so do the Starbucks orders. Fall is here, and the coffee shops are feeling the demand for all the autumn flavors.
Perhaps one of the most popular fall flavors is anything and everything pumpkin. Pumpkin spice lattes, pumpkin cream cold brews, and cinnamon pumpkin lattes are making their merry way into the hands of all the fall coffee drink lovers. Junior Aubrie Thomas can testify that pumpkin drinks are definitely one of the best out there.
"My favorite fall drink is a pumpkin spice creme frappuccino from Starbucks," Thomas said. "I think fall drinks are good and tasty because I love the taste of pumpkin, but I think some fall drinks are overrated."
Even coming from someone who has tasted almost every single fall drink, pumpkin still remains the fan favorite. Junior Elaina Angelo has tried a wide variety of drinks from a wide variety of coffee shops and agrees that pumpkin-flavored drinks are the best tasting.
"So far I've liked all of [the fall drinks]. I think they're very very good and really get you in the fall spirit. So far my favorite has been the pumpkin chai latte from Starbucks," Angelo said. "I feel like it would be weird if fall drinks were offered year-round."
Junior Alexa Mogolov is also a fan of pumpkin-flavored fall drinks.
"I like pumpkin fall drinks better than the apple-flavored drinks. My favorite is the iced pumpkin latte," Mogolov said. "I like the pumpkin flavor and that it's seasonal, so you have to get it while you can."
Finally,  we have the ultimate coffee lover – who also happens to be involved in the upcoming Falcon Brew, junior Alex Rodriguez.
"I really like fall coffee. It just gets you into the spirit and has the perfect timing, and something about it just gives off the vibe that it's finally the fall season – the best season. I love anything with pumpkin, and I'll try fall drinks from anywhere – Dutch Bros, Dunkin, Starbucks," Rodriguez said. "Fall is one of the best seasons and just the drink alone has that perfect taste and the perfect timing."
For all the fall coffee lovers, there is nothing better than sipping a pumpkin spice latte while the autumn wind ruffles your hair. And for all the not-so-much fall coffee lovers, next time you're making your rendezvous at Starbucks, just sneak a taste…. You may be surprised. Let's give 'em pumpkin to talk about.